Powerful and precise: the new accu-jet® S pipette controller from BRAND
In many laboratories, pipette controllers are indispensable for daily tasks in cell culture labs, pharmaceutical labs, and chemistry labs.
These instruments are subject to distinctly different requirements depending on the application: splitting cells in cell culture often requires maximum power when aspirating and dispensing, while media exchange requires delicate handling to prevent detaching adherent cells from their substrate. In analytical applications, the power of the instrument must be adjusted to the volume of bulb and graduated pipettes, in order to be able to set the meniscus quickly and, above all, precisely.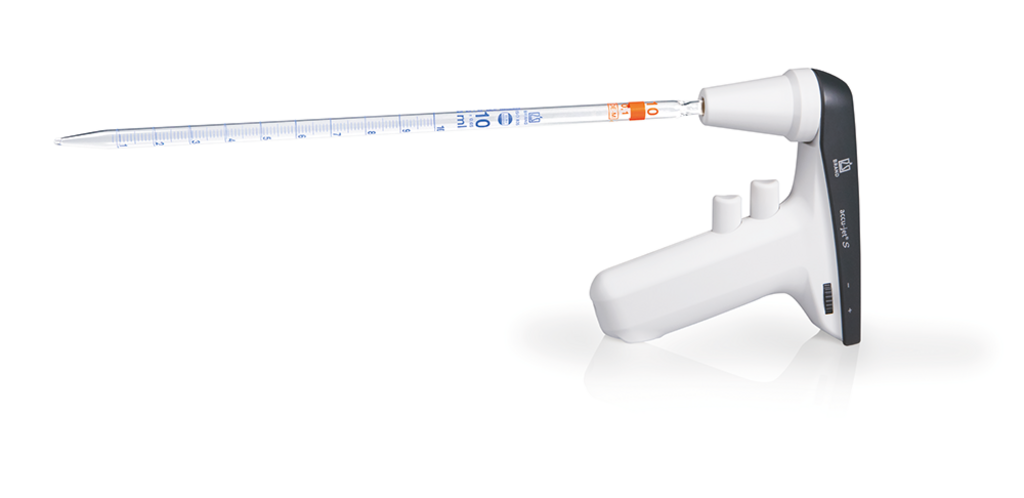 The new accu-jet® S from BRAND meets both requirements for power and precision, and makes work simple, easy, and efficient. BRAND has improved upon its tried-and-tested accu-jet® pro model with the accu-jet® S. Its new design and four trendy color options also make the accu-jet® S an instrumental tool on every workbench.
Precision pipetting of both large and small volumes is extremely easy: pipetting speed can be adjusted with one hand – from powerful aspiration, to exact meniscus setting, to precise dispensing of even the smallest volumes. Regulating the motor speed and changing between gravity delivery and fast, motor-supported blow-out of liquids is also easy to do with only a single-hand.
The accu-jet® S supports efficient work without unnecessary interruptions. A single battery charge typically provides 8 hours or more of working time, and even when the battery is empty, work can continue seamlessly by connecting the charging cable so you can continue to work while charging. The accu-jet® S saves time, even during short interruptions to work processes. With the new rest position integrated into its housing, the instrument can simply be placed on its back with a pipette inserted.
The accu-jet® S also makes efficient use of resources. Maintenance and repairs are easy and straightforward. Changing the membrane filter, silicone adapter, or battery are all easily done. Its robust design also provides for a long service life. The valve system contributes to longevity by channeling liquid vapors directly out of the instrument and thereby reducing the risk of corrosion. The membrane filter and the additional check valve effectively prevent accidental penetration of liquid. BRAND is also committed to sustainability in its packaging and production processes. Packaging consists of 90% recycled material and our factory uses electricity from renewable sources.